Bananas Promos
DEEP PURPLE - THE STORY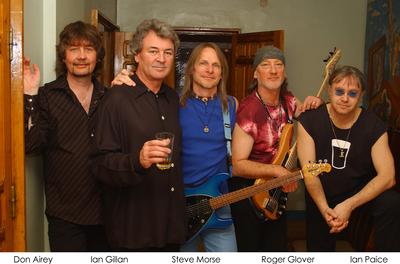 The Montreux Jazz Festival, Royal Albert Hall, Melbourne Entertainment Centre, a Blizzard somewhere in the Alps, Tokyo, Rio, Moscow's Olympic Hall, Cape Town, Bangalore, La Paz, Toronto and Kansas City.



What do they have in common? They are just a few of the places where you could have seen a Deep Purple show over the last couple of years. Simply reading the itineraries gives you an idea of how this band operates on a truly international level.

Deep Purple is not a conformist group. There never was, nor ever will be, any fawning to trends. What you do get from them are cutting edge performances based on a sound philosophy: "the music comes first". That music comes from within the core spirit of the band, nowhere else. They won't be bagged. Why?

In the sixties and early seventies they were described (by others) as "Progressive" or "Underground", when they made a conscious decision to depart from the "Hush" era in order to record the seminal album "Deep Purple in Rock".



"Fireball", "Machine Head", "Made in Japan" and "Who Do We Think We Are" quickly followed, and they were then tagged (along with Zeppelin and Sabbath) as leaders of the "Hard Rock" explosion. At this point began the gradual disintegration of the famous MK 2 line-up, (Blackmore, Gillan, Glover, Lord, Paice) and some long overdue individual R & R.

The eighties re-union as "Perfect Strangers" shook the world (again) with a fresh look at the music but with a bold detachment that stated "this is Deep Purple". The era was to end in disharmony, however (again), with first Gillan leaving, then Blackmore and then Gillan returning; confusing? Not really.

After the divorce, and seeing this as a genuine opportunity to get back to the music, the guys invited Joe Satriani join as locum, and he spent the best part of a year on the road with the newly revitalised band before returning to his own commitments. The scene was now set for the most important line-up change since "69.

Steve Morse was the only name on the list, and the question he asked, (after a couple of out of town gigs had confirmed the chemistry) "Is there a dress code?" paved the way for a return to the humourous disdain the band have for what they used to call "poseurs".


They never set out to be "Rock Stars". Call them "Classic" and they will laugh and patiently explain that nostalgia is not a creative word. Sure they've been through the mill a few times. However each time they've emerged stronger, and now you see a band that is hard and professional; displaying texture, dynamics and a humanity that can only come from those rare artists who are masters of their craft.

Deep Purple's music has evolved organically into an expressive maturity, and the sell-out shows at the cities mentioned above are testament enough to the massive fan commitment. There's a lot of affection out there for what many say is the greatest of them all.

Bands
Ian Gillan (born Hounslow, Middlesex, August 19, 1945)

Ian joined Deep Purple from Episode Six in 1969. His first Purple album appearance was on 'Concerto for Group and Orchestra' but Gillan made his greatest vocal impact on 'In Rock', 'Fireball' and 'Machine Head'. The band's most famous anthem 'Smoke On The Water' emphasises his ability to deliver a lyric with smouldering intensity and rock'n'roll exuberance.

Gillan led his own band during the late Seventies before rejoining Deep Purple for 'Perfect Strangers' in 1984. In 1989 he toured as Garth Rockett before releasing further solo albums including 'Naked Thunder' (1990), 'Toolbox' (1991) and Dreamcatcher (1998).

Ian is presently working on several projects, both as a writer and vocalist, with a book under construction and a new solo album taking shape.




Roger Glover (born Brecon, Wales, November 30 1945)

The bass player and composer, joined Deep Purple from Episode Six in 1969, then left to become head of A&R at Purple Records. He wrote the 'The Butterfly Ball' (1974) concept album which yielded the hit song 'Love is All' sung by Ronnie James Dio.

He worked as a producer with such bands as Nazareth and Status Quo, as well as working with Ian Gillan on their album 'Accidentally On Purpose' (1988). Roger played with Ritchie Blackmore's Rainbow (1979-1984) before returning to Deep Purple in 1984.

"The last eight years have been especially enjoyable. It is such a joy to be in the band now. After Steve joined it reawakened in me that feeling of why I was in the band in the first place. It's like a great big adventure. That's the way it was in the beginning and then, of course, politics and personalities, success and money get in the way of the fun. For a while it became a job or a bore. The last eight years have been the exact opposite. It's back to the fun it was in the first place, which is a wonderful thing!'
Don Airey (born in Sunderland, England)

Has been a player on the rock scene for over 25 years, notching up almost 200 album credits and associations with 20 or more major bands including Cozy Powell's Hammer, Colosseum II, Andrew Lloyd Webber, Ritchie Blackmore's Rainbow, Ozzy Osbourne, Whitesnake, Jethro Tull and ELO.

From 1992-95, Don's involvement in the music scene was sporadic, due to his older son's serious illness, but since has been continually occupied recording, producing or touring with a multitude of artists including Tony Iommi, Glenn Hughes, Ten, Uli Jon Roth, Judas Priest, Silver, opera singer Mark Rattray, Gary Barden, Michael Schenker, UFO, Graham Bonnet and, last but not least, Deep Purple.

Don came to Purple's rescue mid 2001 to help out for an injured Jon Lord, who has since retired, with Don recording the new album with Deep Purple as the band's permanent keyboard player.

"The thought crossed my mind a few years ago 'If Jon retired...?.... Naaaah ....... They'd never ask me'. So when he did and they did, I jumped at the chance and it exceeded my expectations from the first number I played with them, Woman from Tokyo, at the Skanderborg Festival in 2001. Touring Russia and the US last year was a highlight and reccording a new album with the band in Royaltone Studios LA, January 2003, the sort of experience I thought I'd said goobye to years ago - Long may it continue!"







Steve Morse (born July 28, 1954, Hamilton, Ohio, USA)

Superb guitarist and bandleader in his own right, Steve went to Miami University to study classical and jazz guitar. He formed The Dixie Dregs in 1975 with bassist Andy West. Between 1982 and 1986, readers of 'Guitar Player' magazine voted Steve Morse 'Best Guitarist' for five years in a row. He formed The Steve Morse Band in 1983 and joined Kansas before switching careers to become an airline pilot.

Drawn back to music, he joined Deep Purple as lead guitarist in 1994, although he maintains his own recording band.

'It's so much fun for me to play with the guys in Purple.Ian Gillan, apart from being a great singer, is also a master of the English language. He can manipulate words and pluck double entendres out of nowhere! What I most enjoy in life is working with excellent musicians. That's why I get so enthusiastic about working with Deep Purple.'





Ian Paice (born June 29, 1948)

Deep Purple's drummer since he joined the band (age 19) in 1968. Armed with a dazzlingly fast technique, Ian has also worked with Paice, Ashton & Lord, Gary Moore and Whitesnake.

A recent highlight was guesting on Sir Paul McCartney's 'Run Devil Run' (1999) rock'n'roll album. Steve Morse says about Ian Paice: 'He's like a real heavy Ringo. He's just so good on the drums, but doesn't want to make a big deal about it.'

Ian has also just released a new solo DVD which is aimed at drummers and music fans alike.