Deep Purple
Rapture Of The Deep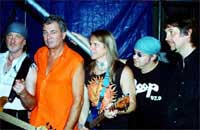 © 2005 Edel Records


1. Money Talks (5:34)
2. Girls Like That (4:02)
3. Wrong Man (4:54)
4. Rapture Of The Deep (5:57)
5. Clearly Quite Absurd (5:26)
6. Don't Let Go (4:33)
7. Back To Back (4:04)
8. Kiss Tomorrow Goodbye (4:19)
9. MTV (limited edition bonus track) (4:55)
10. Junkyard Blues (5:32)
11. Before Time Began (6:30)

Don Airey (keyboards), Steve Morse (guitar), Ian Paice (drums), Roger Glover (bass), Ian Gillan (vocals).

Credits:
All tracks: Gillan/Glover/Airey/Morse/Paice;

Produced by Michael Bradford.

Альбом - волшебный!

Восхищение глубиной

Отбросив протокольное вступление на предмет исторической значимости события, скажу сразу: альбом вызовет очень неоднозначную реакцию в кругах меломанов и, как следствие, обязательные полярные оценки. Группа записала необычный и неожиданный диск, а любое, даже самое незначительное колебание генеральной линии неизбежно приводит к религиозным войнам среднего масштаба.
В начале 2005 года Роджер Гловер довел до скептиков свою точку зрения по поводу их любимого постулата про "это уже не тот Deep Purple". Суть ответа состояла в том, что когда в группу приходят новые люди, то она, группа, не может остаться "той" в принципе. Любой новый человек неизменно привносит новые идеи, которые не могут не изменить музыкальную составляющую. К чему я привел эти слова? Только к тому, что к этому альбому нужно правильно относиться: как к новой музыке, написанной, во многом, новой группой. Понравится он вам или нет - не знаю. Но вот что удивительно. Еще никогда не доводилось настолько часто слышать от фэнов, что диск, поначалу вызвавший недоумение, постепенно "доходил" до сознания и превращался в безусловного фаворита. Вот лишь некоторые цитаты с нашего форума:

"... Послушал еще раз, потом еще. Он как бы раскрывается понемногу." (AUSdrum)
"... Какая-то в нем магия, натуральность." (daito)
"... Вот странная закономерность: действительно изысканный диск сразу не прет, его как бы потом догоняешь." (victor83)
"... Звучание само такое наполненное, глубокое. Но действительно, с первого раза, как Bananas его не уловишь." (Kseniya)

Лично мне альбом целиком понравился где-то с пятого раза, и теперь имею твердое убеждение в том, что в моем плеере играет лучшая работа пост-блэкморовской эпохи.

Итак, Deep Purple образца "Rapture Of The Deep". Очевидно, что Дон Эйри и Майкл Брэдфорд нашли друг друга окончательно. Сотрудничество этих двух людей, разумеется, не изменило стиль группы, но наполнило его совершенно иным качеством. В свете нового альбома стало понятно, что предыдущий диск, "Bananas", был лишь первым шагом от здорового консерватизма к такому же здоровому желанию музыкальных новаций.
При ближайшем рассмотрении первое, что бросилось в глаза - большое количество заметных и не очень заметных штрихов, наполняющих музыку своеобразным шармом. На переднем плане - много клавишных, и, как может показаться, мало гитары. На самом же деле Морса на диске очень много. Одна из основных новаций состоит в том, что впервые Стив настолько обильно представлен не как "лидирующий" инструмент, а именно как художник, раскрасивший общий саунд группы. Почти в каждом треке присутствует огромное количество фоновых гитарных аккордов, создающих красивейшую "подложку" под основную тему.
Разумеется, богато представлены клавишные Дона Эйри, включая фирменный "хаммондовский" звук. Присутствуют неизменные гитарные соло Стива , но теперь музыка строится на новом, красивом фундаменте, крепким каркасом которого остается ритм-секция Пэйс-Гловер.
Особым украшением стал гиллановский Голос. Именно Голос, с большой буквы, звучащий идеально чисто и свободно - такого Иэна Гиллана можно слушать и слушать.
Нельзя так же не отметить продюсерскую работу Майкла Брэдфорда. Столь продуманного и аккуратного микширования, неброских эффектов и качественного саунда в истории группы еще не было. При этом нельзя не отметить, что Майклу ни разу не изменило чувство меры и его усилия лишь подчеркивают работу самих музыкантов.
Все это в сумме переплетается в музыку, которую, при всей ее узнаваемости, можно характеризовать как более тонкую, или, если хотите, более изысканную. Впервые за долгие годы прослушивания Purple-related музыки я поймал себя на мысли, что именно этот диск более приятно слушать не через напольную акустику с неизменным "смерть соседям mode on", а через наушники - наиболее приемлимым, на мой взгляд, способом насладиться особым звучанием каждого инструмента и расслышать самые мелкие штрихи в богатой звуковой палитре.
Еще один момент, о котором необходимо упомянуть - студийная атмосфера во время записи альбома. Майкл Брэдфорд на правах продюсера практикует следующую схему работы - не давать музыкантам многократно переписывать одни и те же партии. По его убеждению, у Deep Purple искра вдохновения вспыхивает во время первых "дублей". "Берите их, пока они горячие", - говорил Майкл - "и это всегда будут лучшие варианты, перезаписывай их потом хоть сто раз". Практика показала: Брэдфорд прав на все сто. Музыка, которую мы теперь слушаем, родилась во время спонтанных инструментальных джемов. И, как результат, получилась очень живая и свежая работа, где каждый из музыкантов смог проявить себя в полной мере.
Рекомендации, которые мы можем дать, очевидны. Слушайте альбом. Слушайте его внимательно. Не будем оригинальны, порекомендовав сходить на концерт. Ибо Deep Purple, как никакая другая группа, умеет подать "в живую" свою музыку так, что "Rapture Of The Deep" все равно пробъется к вашему сердцу :)

Для альбома группа записала 12 треков. Обычное издание содержит 10, а такие номера, как "MTV" and "Things I Never Said" появятся как бонусы для европейского и японского limited edition соответственно.
Дмитрий Зыков

"Rapture Of The Deep"
promo pictures
rapture of the deep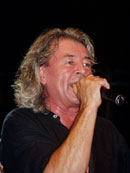 We'll be taking a detailed look at Deep Purple's new album in the next issue of Darker Than Blue, but do feel free to send in your comments or reviews for this 'first impressions' page, which will mostly feature shorter reviews or extracts. Daniel Bengtsson's review arrived first, and is featured in full as a starter: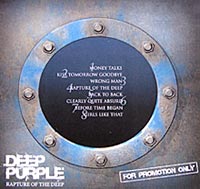 "Deep Purple spent five weeks recording their new album "Rapture of the Deep". This fact becomes very evident when listening to the album. What we have here is a collection of songs that sound as if they were born in a jam situation, with five guys in a room together bouncing ideas off of each other. The album's got adefinite live feel to it. Whether it was a result of the addition of Don Airey to the band or the choice of working with Michael Bradford, 'Bananas' was a new step for Deep Purple in many ways. There was an old-fashioned rock and roll feel to the songs which was embraced by many fans. They go one step further with this tight but loose approach on "Rapture of the Deep". This is a different beast compared to 'Bananas'. It's darker, harder and dare I say more adventurous. The songs follow a similar pattern and this makes for a very cohesive album, although one or two fast rockers wouldn't have been out of place.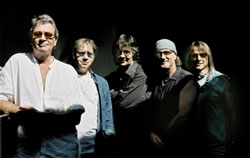 It might not be as easily accessible as 'Bananas' was, but I'm on my fifth listen as I type this review and it just gets better. Some of the songs remind me of the mid-tempo stuff on 'Abandon' but this material works better. Many fans are sure to take this album to their hearts, whereas some of the old timers may be confused with parts of it. In truth, the band's creative juices are currently flowing and I have a feeling this material is exactly what some fans were hoping for. My first impression is that Ian Gillan sounds very inspired. Bucketloads of attitude. It reminds me of his approach to singing on projects like 'Cherkazoo' and the Ian Gillan Band. It's obviously very different from that, but there's something about his vocal delivery and the quirky nature of these lyrics that really show off his uniqueness as a singer and as a wordsmith. Results are almost always rewarding when he is in the mood for questioning authorities, and he takes many opportunities to do so on this album.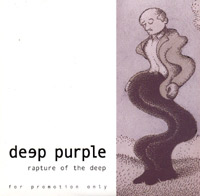 'MTV' (the European bonus track) is a particularly fine example of this and one of my favorites on the album. Excellent lyrics lashing out at journalists asking way too many predictable questions and making fools of themselves while doing so. When Gillan sings "Mr. Grover, Mr. Gillian oh you must have made a million on the night that Frank Zappa caught on fire" it's difficult for me to explain just how good it is. Not to mention the steaming Hammond solo and Paice's insanely tasty drumming to back it up. Many similarities to "No One Came" in the way Gillan sings it, while still being totally different. In a way, the stuff of Purple dreams. Hell, Ian Paice even gets a 'Space Truckin'' drum roll in there somehow! Steve Morse's and Don Airey's interplay is now more refined and they get more chances to shine here than on 'Bananas'.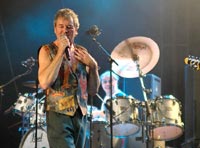 Case in point: the way they compliment each other in "Don't Let Go" (feel good chorus!). Their ground work on the title track is very solid too. In fact, the whole band cooks on 'Rapture Of The Deep'. Unlike anything else to have come out of the Morse line-up this song is based on an oriental melody line which Airey and Morse plays simultaneously to great effect. Dreamy singing from Gillan (think 'Cherkazoo') and a driving power rhythm throughout. The sounds Airey wrenches out of his Hammond are wonderful. A very successful attempt at trying something new.
"Clearly Quite Absurd" is the ballad on the album. Driven by a delicate guitar melody from Morse, it might not quite scale the same emotional heights as "Sometimes I Feel Like Screaming", but it fares a whole lot better than "Haunted" which followed too much of a formula. Just when you thought you had this one figured out, it starts to build with some nice layered guitar and a short but sweet burst of Hammond to top it off. Gillan sings beautifully here. They need to include this on the upcoming tour. "Girls Like That" features a relentlessly driving riff with a sweet chorus to boot. "Wrong Man" bears a resemblances to "Whatsername" from Abandon but is groovier. Very little happens in 'Back to Back' - a weak spot on the album.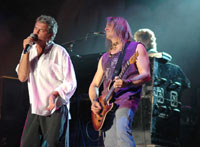 'Kiss Tomorrow Goodbye' is another gem. A drum rhythm gets the thing going and then there's a chugging riff. Gillan singing 'Did a bad thing, I did a bad thing, I did a bad thing, did a bad bad thing...' leaves you in no doubt that he did. Add some vintage Paice breaks and a warm, fat Hammond tone to the mix and all is well in Purple land. Another highlight. "Junkyard Blues" has an immediate funk vibe courtesty of Morse. Catchy chorus. Airey gets out the honky tonk piano for an extended solo mid song. Morse comes in with the riff again at the end, and it almost sounds like a first take. The energy is contageous. And just when you thought things couldn't possibly get much better, Ian Paice brings the proceedings to a close with a drum fill hardcore fans are sure to remember from days of old.
"Before Time Began" ends the album on a somewhat somber note. A promising song and a bit unusual for Purple. The outro could definitely have been extended. As it sits right now it ends rather abruptly. Let's hope they take the opportunity to make this song an improvisation vehicle once the tour rolls around.
In summary, a very interesting effort by the band. They are discovering some new musical themes which I found refreshing. Everyone plays very well and the jamming spirit is certainly alive. The album is not without its faults, but on the other hand some of it is really, really good. Can't wait for the tour in 2006! ` Daniel Bengtsson
"The title track "Rapture Of The Deep" (natch) is more instant than Nescafe, and has more hooks than a fly-fisher's hat, the eastern riff reminding me of early Rainbow. The track is stolen by the instrumental break in the middle, some great keyboard and guitar runs leading into a sublime Morse solo. This is 'Perfect Strangers' for 2005, a classic. Next up, 'Clearly Quite Absurd', the ballad. Nice piano touches from Don and a good, solid performance from Gillan on a nice melody that beautifully overlays the delicate guitar work which closes out the song stunningly with a rising scale dovetailed under some great Hammond work once more. 'MTV' is possibly the track I go back to most, great music and some rib-tickling lyrics, nice playing all round too. The guitar playing puts me in mind of Tom Petty and the vocal hooks (there are many) are instantly memorable. "Junkyard Blues' has got a great chorus but sounds flat to these ears during the verses, saved again by another extended Morse/Airey exchange of solos. 'Before Time Began' closes out the album, a dark song which builds from a quiet intro and first couple of verses into a powerful anti-war rant, Gillan spitting lines like 'Every day of my life I discover/Someone murdering my sisters and brothers/in the name of some God or another'.
All in all, a natural and worthy progression from 'Bananas', the gold stars to Steve and Don particularly, whenever they can be heard. I don't like the lack of edge to the production, it seems to have robbed the songs of their power, but there are some great extended musical passages and solos (no song under 4 minutes and several nudging, and over, 6). Played several times, your ears get used to it, and that allows the songs to grow on you. This shouldn't be needed though. Please, please, please can Purple build the live set around some of this material and ditch the older stuff? Please?" Martin Ashberry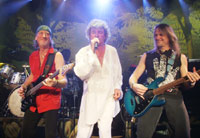 "Money Talks - Solid opener - would work well to begin the live act too, I think. Ian's narrative vocal style brings to mind past glories such as No One Came & Little Share Of Plenty - not the last time he sings this way on the album either. Rapture Of The Deep - Deservedly the title track - a snake charmerish-call to prayers signature lead begins before a dreamy vocal kicks in with some cosmic lyrics. Would make a great live track - a natural successor to `Perfect Strangers'. Steve's guitar work at around 3.5 minutes in is just beautifully fitting. I would happily play this to anyone to justify my love of DP. Clearly Quite Absurd - Some great guitar from Steve. Piano from Don is sadly too far in the background. Back To Back - Some good guitar & keyboard work, with Don bringing in some different (for Purple) keyboard sounds. Kiss Tomorrow Goodbye - Pounding Paicey tom-toms herald the Environmental Message. Steve too low in the mix. Good track though. MTV - Good song, amusing lyrics, strong harmonies. Steve and Don get turned up for the solos showing off some nice work. A `Space Truckin' run thrown in too. Before Time Began - Great ending to the album - Almost military drumming and casual guitar fuse into something rather wonderful. Nice juxtaposing of `What do you know?' with comments on religion-inspired wars (what does anyone really know for sure?). The bottom line - with an improved mix this could have been a killer album." Tim Summers
"I don't think 'first impressions' will do justice to this often wonderful album, which only slowly reveals itself in all of its glory. Maybe 'fifth impressions' would be more apt... Anyway, to generalise for no very good reason, it strikes me as having parallels with 'House Of Blue Light'; except that it works. The title track is a beauty, reminiscent of 'Strangeways'. Junkyard Blues' is a feast which despite its title sounds like nothing else I've ever heard, (it certainly isn't blues)...indeed like much of the album it covers multiple styles and influences within its duration, often at the same time. The songs are generally longer than on Bananas, which often suffered from musical coitus interruptus during its best tracks. Here they have more space, and the musicians joyfully take full advantage. The only dodgy track as far as I'm concerned is 'Girls Like That'. It has plenty of garnish, including a harmony heavy chorus, but for me its mediocrity still stands out, particularly as the other ten songs are so good. It seems we have a great rock album on our hands." Ethan Wright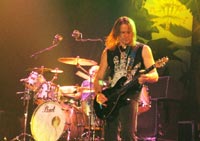 "Opening track 'Money Talks' is an absolute cracker, an up tempo rocker with a memorable hook, some sparkling keyboards from Don Airey and a tasteful solo to boot. The title track is straight out of the 'Perfect Strangers' mould, and I'm sure fans will take it to hear; mid-paced, moody and borderline magnificent. 'Don't Let Go' is melodic enough not to scare the Radio 2 listeners, different enough to intrigue those unfamiliar with modern Purple, but the chorus is a bit of a let down. 'Kiss Tomorrow Goodbye' has ended up as one of my favourites, some pounding rhythm work, semi spoken singing from Mr Gillan and some more excellent keyboard work from Don Airey, a man who emerges as the hero of the piece, with some fine saving tackles on the lesser material.
'Junkyard Blues' is another highlight as the driving blues motif which recurs throughout the best material here reappears with a sprinkling of honky tonk piano and some ZZ Top guitar riffs. Things end up with 'Before Time Began', and this is the track people should be talking about. Taking Purple back to their progressive roots, it's a dark and affecting piece of melancholia, topped off with some of Gillans better lyrics, touching on the modern world and the amoral society we live in. By far, the best song here and one that should be hailed as a future classic. After the debacle of 'Bananas' this is a worthy album. There are 4 songs that stand up to the legacy that Purple have created, maybe another 4 that are good Gillan songs, but don't really belong on a Purple album and a few fillers." Stuart A Hamilton. You can read Stuart's full review at www.the-rocker.co.uk shortly.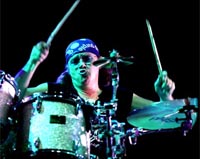 Deep Purple'e new studio album is scheduled for release on October 21st 2005 on Edel Records. In the intervening time look out for an exclusive competition for DPAS members to win a limited tin box edition of the album, and also, stay tuned for audio clips in the near future.
Courtesy of Edel Records, here is a track by track run through the songs:
1/ On `Money Talks` an unusual introduction leads directly into the archetypal DEEP PURPLE organ-sound. Ian Gillan's vocals are much in the same vein as`Seventh Heaven` from the `Abandon`.
2/ `Girls Like That` harks back to the likes of `Rat Bat Blue`, but also sounds like a lost diamond from the `Perfect Strangers` era.
3/ `Wrong Man` is a hard rocking song that would come across extremely well in a live setting.
4/ With its changing tempos `Rapture of the Deep` could remind listeners of the construction of `Lazy`.
5/ `Clearly Quite Absurd` contains guitar work with a similar feel to `Sometimes I Feel Like Screaming`. There are also parallels to `Haunted` in the vocal lines.
6/ `Don't Let Go` is perhaps the most impressive track on the album. It is not only a guitar masterpiece but also a phenomenal composition.
7/ `Back To Back` is similar in style to `Silver Tongue`.
8/ `Kiss Tomorrow Goodbye` brings to mind early Blackmore/Gillan/Glover/Lord/Paice Mark II-material.
9/ `Junkyard Blues` is a powerful song, and everybody will be carried away by the guitar and the piano playing that swings from honky-tonk to jazz.
10/ `Before Time Began` is a thoughtful track with an elegiac feel to it. Outstanding performances from the band support the words superbly.
As a whole the album keeps up good traditions but also ushers in a new era for the band and their fans. (The tracks `MTV` and `Things I Never Said` were not available to review.)
Edel / Jиrg Schulz

The track listing for the regular edition as listed by Edel is: 1/ Money Talks, 5:32, 2/ Wrong Man, 4:52, 3/ Girls Like That, 4:00, 4/ Rapture Of The Deep, 5:56, 5/ Clearly Quite Absurd, 6:25, 6/ Don't Let Go, 4:32, 7/ Back To Back, 4:02, 8/ Kiss Tomorrow Goodbye, 4:17, 9/ Junkyard Blues, 5:30, 10/ Before Time Began, 6:39.
A European limited edition version gains extra track 'MTV': 1/ Money Talks, 5:32, 2/ Wrong Man, 4:52, 3/ Girls Like That, 4:00, 4/ Rapture Of The Deep, 5:56, 5/ Clearly Quite Absurd, 6:25, 6/ Don't Let Go, 4:32, 7/ Back To Back, 4:02, 8/ Kiss Tomorrow Goodbye, 4:17, 9/ MTV, 4:54, 10/ Junkyard Blues, 5:30, 11/ Before Time Began, 6:39.
The 'Rapture Of The Deep' World Tour is due to start in Germany, January 2006.