Having seen various adverts for this range of DVDs and reading a warning on here about the potential lack of provenance, parting with money for it seemed risky so I rented it through www.screenselect.co.uk (a great service, like an online video shop), a good decision!!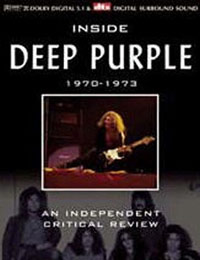 As per the title the DVD basically covers Mk 2 but there's no context at all, in fact when you press play the DVD crashes straight into discussing the Concerto, which is a bit odd, then goes through each of the albums up to Who Do We Think We Are.
The format is a bit like the Classic Albums series with musicians, journalists etc commenting on a particular topic linked through with video clips. However unlike Classic Albums no band members appear, instead we have some session musicians, Doogie White noted as "Singer - Rainbow" which seems a bit shameless given that was a few years back now, Neil Murray - Whitesnake / Black Sabbath - but not M3!! - you get the idea of a desire to build credibility here, Malcolm Dome from Total Rock, the editor of the Ritchie Blackmore fanzine 'More Black Than Purple' , and the guitarists from Mostly Autumn and Procol Harum.
The best way I can describe this is as a bunch of fans talking about their favourite band. If you video'd a conversation in a pub before a Purple gig you'd get the same thing in essence.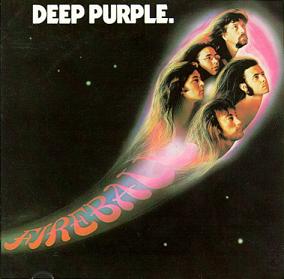 Unfortunately given the lack of Mk 2 footage this ends up driving the direction of the conversation so the only tracks discussed are those that there is footage for; so off In Rock we get 'Speed King' and 'Child in Time', Fireball 'No No No', 'The Mule' and the title track, Machine Head 'Highway Star', 'Smoke..', 'Space Truckin' and 'Lazy' etc.
In terms of the commentary, as you can imagine from any such group it's a very subjective viewpoint. There are also some silly factual errors which is sloppy. and I have to say most of the commentary is less than incisive, which makes you wonder who its aimed at. It's an OK introduction to Mk 2 but it seems unlikely your average "Purple Rainbows" purchaser will buy or rent it and there's nothing there for anyone who ever visits this website. It seems like something that will catch fans once, which is exactly how many times theyll play it!
So what of the footage. Well it's pretty much what youd expect... Beat Club, Doing Their Thing, Concerto 69, and Denmark 72. Most bizarre is a clip of Mostly Autumn playing 'Smoke...', just coz they had the clip I fear!
All in all give it a miss, unless you like arguing with the TV screen over solos and such. However I think you'd be better getting to a gig an hour early and doing it in the pub round the corner!